Safari Lodge
created on: 2011-09-11
Safri Lodge is on the beautiful island of Nananu-i-ra, just steps from the beach. When the wind blows from South-East, which it does most of the times, it's possible to kite directly in front of the Lodge.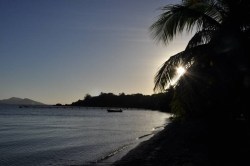 You do need to be able to go upwind as the wind is quite onshore.



Safari Lodge offers a weekly kite package which includes boat transfers to kitespots and also rescue service. It is also possible to kite on your own and pay for the boat service as needed.



We booked the package for a whole week. On our first day the wind was light so the owner Warren took a big group of kiters on a boat for a downwind session. The organization from the lodge was great.
We were showed how to get the kite ready for launching from the boat, which is a bit different than launching from shore. After that we put our kites in the boat and were ready to go. The distance we were able to go downwind was between one and two kilometers and I was able to kite for about an hour before I got picked up by the boat.




The other days we kitesurfed on a place they call kite point. There is a small beach where you can set up and launch your kite. The water is really flat making it easy to practice new tricks. Be careful not to ride too far behind the island or your kite will just fall from the sky and it won't be easy to relaunch it.

If you need a break from kitesurfing or there is no wind there is also the option to go on a scuba dive. Safari Lodge is a certified PADI dive center so you can get certified if you need to.



We went diving one day due to not very promising looking wind forecast. It turned out to be a fantastic dive. Compared to other dive sites on Fiji the coral here looked much healthier and there were more fish than I have seen before.

I would recommend Safari Lodge for a kitesurfing holiday or a relaxing vacation on one of Fiji's most beautiful islands.

www.safarilodge.com.fj


+679 628 3332  or  Skype: SafariLodgeFiji
more pictures...
Tags